Marketing Strategy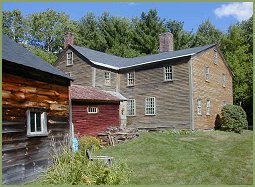 Marketing Strategy of Historic & Distinctive Properties
In these uncertain economic times it takes more than a sign to sell a historic property. It takes hard work, a strong network and a thoughtful plan. It takes an expert. "Historic Properties, according to the Union Leader, "is New Hampshire's foremost experts at marketing antique, historic properties." Historic Properties spends all of their time on a niche that is less than five percent of the total real estate market. Nobody cares more about the preservation of historic architecture and landscapes. 
Historic Properties Associates have years of practical and academic experience in the field of marketing and selling historic buildings. Their command and interest in this niche has introduced substantial market and anecdotal research to determine trends, strategies and tools necessary to successfully buy or sell a historic property.
---
CREATING A MARKETPLACE
Historic Properties was born out of the idea that an exclusive marketplace for historic real estate would benefit sellers and buyers of old buildings and ultimately the buildings themselves. The goal of Historic Properties, therefore, is to create a marketplace that matches fine old buildings with preservation-minded buyers. The best way to save fragile historic buildings is to put them in good, safe hands with buyers who appreciate the scarcity of a well-preserved antique.
Historic Properties invests heavily in building this strong, vibrant marketplace, so in essence all marketing and promotional activities benefit all clients. It is the intention of Historic Properties to garner the best price for your property by employing an aggressive marketing plan that attracts the most qualified and interested buyers thus creating a competitive sales environment. 



---
EXPERTISE & EXPERIENCE
Finding a qualified buyer, in the paraphrased words of Yogi Berra, is "ninety percent of the game and the other half is mental." The "mental" aspect of selling a unique, historic property is important. It is not enough to bring the buyer(s) to the property; it is critical to sell the property on an emotional level. No one buys an old house for practical reasons; it is always an emotional decision. 
Selling an old house grows more challenging every year. Environmental, safety, disclosure and lending regulations are designed to meet the demands of a new, litigious and complicated world. The real estate market is dominated by new and newer construction, yet old houses typically do not fit this "cookie cutter" approach. Historic Properties deals with "old house" problems that many real estate brokers will never face in their entire career. This experience is invaluable. Historic Properties understands how to resolve these issues in a timely manner, while preserving the emotional attachment that bonds the buyer(s) to the property.  
---
A STRONG NETWORK
Probably the single greatest service Historic Properties brings to its clients is its prominence in the marketplace and a vast network of connections. Historic Properties takes great pride in the high profile preservation role that they play in the state of New Hampshire. But there are many ways to find a buyer; and Historic Properties offers the following to create a marketplace for your property:

---
COOPERATING BROKERAGE
Brokering, in the truest sense of the word, is about matching the desires of the customer to the property of the client. These buyers are generated through a host of efforts including direct mail, the Historic Properties web page, word-of-mouth and targeted advertising. With each initial contact, Historic Properties first profiles the prospective buyer and then draws on its extensive inventory to satisfy the needs of that buyer.
We are a licensed real estate brokerage firm with membership in the National Board of Realtors as well as the Seacoast Board of Realtors. In addition, the company is part of the Multiple Listing Service and cooperates fully with other real estate companies. 

---
TECHNOLOGY
Historic Properties recognizes the dramatic effects that new technology is having on the real estate profession. As such, the company is constantly expanding its knowledge and understanding of new opportunities to serve its clients and customers. The web is the place where the vast majority of historic homebuyers find homes. All aspects of the market are seeing this change, but none greater than the relocation and non community-specific buyers. Historic Properties' web site has a dominant location on most major search engines. All listings automatically go on multiple websites to include Realtor.com, Zillow, HistoricProperties.com in addition to our own website www.historicprop.com

---
PUBLICITY
Historic Properties enjoys a positive and valuable relationship with the news media. We have an eye for good stories and the contacts to get them into print. Dozens of articles about the firm and our listed properties have appeared in publications near and far including Yankee Magazine, Country Living Magazine, Rural New England, The Boston Sunday Globe, The Boston Herald, The Union Leader, The Concord Monitor, The Nashua Telegraph, and The Laconia Evening Citizen. This media relation skill is an important and often elusive accomplishment beyond the hopes or talents of most real estate brokerages.

---
SPECIAL EVENTS
Historic Properties regularly sponsors seminars, lectures and programs relating to historic architecture, preservation, and restoration. Historic Properties' owner, David Deysher is widely recognized as an old house expert and has spoken to numerous historical societies around the State of New Hampshire. The company has hosted open houses, historic home tours, and preservation conferences. These events provide an opportunity for Historic Properties to promote their listings. In addition, these seminars increase Historic Properties' visibility, expand our network and also serve the public. 
The following is a sampling of some of the seminars:
How to Buy & Start a Bed & Breakfast Inn 

How to Research Your Home's History 

Saving Historic Waterfront Properties (with the McLane Law Firm)

How to Move an Old House, 

How to Buy & Restore an Old House

---