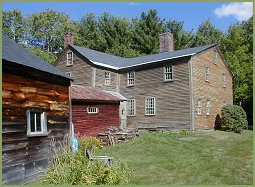 Resources for Antique Home Owners
New Hampshire Organizations
National Organizations
Gunstock Corners: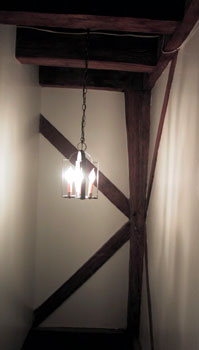 This is the popular term used to describe flared or splayed corner posts that resemble the stock of a gun in post and beam construction. Gunstock corners were a continuation of British framing construction continued from the 13th century and were a practical design for supporting the complex joint and weight born by these posts.In post and beam house construction, there are four corner posts that sit on the framed sill, serving to support the second floor and roof structure. The flare is intentional as the top of the corner post has a complex joint that first holds the wall plates and girts (usually one long timber that runs the length of the house, the other running the width) securing the corner posts and forming a strong boxlike structure, and then supports the triangular roof frame. In two story houses, corner posts usually run the height of the building and have two flares, one at the first floor ceiling height supporting the second floor plates and girts, the other at the second supporting the plates, girts and roof.
To achieve this flare, trees were sawn turned on their heads with the thicker part of the tree trunk forming the top of the post. Commonly, the flare increases from 2 to 4 inches from bottom to top. In formal rooms, gunstock corners are usually covered by plaster and/or wood framing.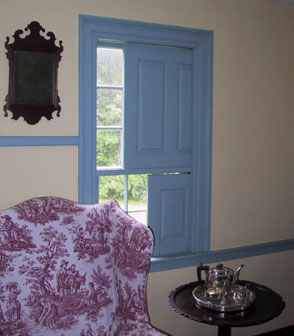 Indian Shutters:
Also known as privacy shutters or pocket shutters, the myth is that Indian shutters were built to protect occupants from Indian raids. In truth, these interior shutters, built to slide into a pocket behind the plaster wall, were used for protection but not from Indians. Shutters were used to protect occupants from cold drafts serving as insulation and retaining heat. They were also practical to protect valuable belongings from sun damage. They provided privacy and served to deter intruders. Shutters appeared in the 18th century when window treatments were uncommon. (Cotton cloth did not become widely available until the widespread use of the cotton gin in early to mid 19th century.)
There were three types of interior shutters, all vertically hinged. The first was a shutter that opened and folded to the sides of the window into the room. These were often removed later on as they occupied otherwise useful room space. Next, Indian, or pocket shutters, come in two forms. The first, one solid panel, slides on a grooved rail at the height of the chair rail. The second is composed of two panels, the bottom sliding on the grooved rail at the height of the chair rail, the second sliding on a grooved rail added at the meeting place of the two window sashes. These have also become rare as owners have tucked them behind the walls, and covered them over. The third type of interior shutter is the vertically hinged that opens to the sides, but is tucked into a recessed pocket in the window jamb built specifically for their storage. These are found more often in more elaborate homes and are likely to survive as they could be stored easily without taking up precious room space.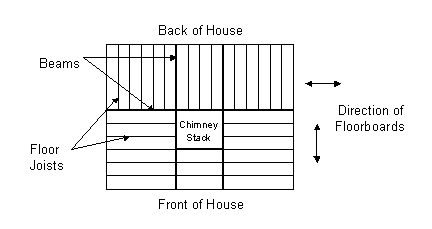 Wide Pine Floors:
Wide pine floors are a feature that people always look for when introduced to an old building. The belief is the wider the floorboards, the better and more valuable they are, and the more formal the room. Interestingly enough, this belief is influenced by modern tastes. The following is a quick overview of early wide pine floors.
Before the industrial period, the preparation of wood for construction and finish work was all done by hand. Old growth pine trees were plentiful and allowed woodsmen the ability to maximize the width of wood planking (ranging from 1-2 feet in width), thus minimizing the work they had to expend to cover a surface. Through the 18th century, floorboards ranged in size and in length, even within the same floor space. The goal was to use the smallest number of boards to cover the surface, thus requiring less preparation of individual boards. This means that in more formal rooms of this era, you may find that floorboards are narrower than in back or upstairs rooms, demonstrating the wealth of the owner who could afford to pay for the additional craftsmanship to have smaller sized floorboards.
Not until the early 1800s, with mechanization, did regular, narrower boards (4-6″ in width) begin to be produced for flooring. Contrary to 18th century tastes, it has become popular to move very wide attic floorboards down to the main floor rooms as nowadays wider is more valuable, not narrower.
As for maintaining these old floors, they were either left unpainted and scrubbed with a mixture of sand and herbs, or lymewashed. Otherwise to facilitate their cleaning, it was common to oil paint them in a solid color, or to stencil them in a grand pattern, such as a checkerboard marble floor (black and white diagonal squares). They were never sanded and varnished.
You mandight have wondered why floorboards go in different directions. The diagram below depicts an example of an 18th century framing structure and shows how floorboards rested on joists and why the direction of floorboards changes from front to back.

---
Historic Buildings and Code Compliance
NH Division of Historical Resources
State of New Hampshire Department of Cultural Resources
19 Pillsbury Street, Box 2043, Concord, NH 03302-2043
603.271.3483 * 603.271.3558 * FAX 603.271.3433
Voice/TTY Relay Access 1.800.735.2964
http://www.state.nh.us/nhdhr
preservation@nhdhr.state.nh.us
Access, building, and safety codes generally include special provisions for historic properties, to take their particular circumstances and/or construction methods and materials into account; but not all building officials are aware of these specific considerations for historic properties.
The Americans with Disabilities Act (ADA) is not only a civil rights law; it is also a historic preservation law. It explicitly includes particular and more flexible allowances for historic properties, so that accessibility modifications do not "threaten or destroy" architecturally and historically significant building elements.
Sections 3406.0 of the BOCA National Building Code (1999 and earlier editions) exempts historic buildings, subject to certain conditions, by stating: "3406.1 Historic Structures Compliance: The provisions of this code relating to the construction, repair, alteration, addition, restoration and movement of structures shall not be mandatory for existing buildings and structures identified and classified by the federal, state or local government authority as historic buildings where such buildings are judged by the code official to be safe and in the interest of public health, safety, and welfare regarding any proposed construction, alteration, repair, addition and relocation." [The Italics are in the published text of the code.]
The New Hampshire state lead poisoning prevention rules include options for treatments of historic properties, to avoid or ameliorate damage or destruction to historic buildings and building fabric.
Similarly, the state fire marshal's office is very committed to helping historic buildings become fire-safe without destroying their character, and State Fair Marshal Donald P. Bliss and his colleagues are happy to be invited to meet with local officials and building owners and preservationists, to try to find mutually beneficial solutions. Their presence and their ideas seem to give local fire and code officials a much greater level of confidence when coping with code issues in historic buildings. As Don Bliss says, "we're all trying to do the same thing: protect life and property." On July 2, 1999, he included NFPA 909, Standard for the Protection of Cultural Resources Including Museums, Libraries, Places of Worship, and Historic Properties, 1997 edition, with its appendices, in the State Fire Code. A copy of the revised State Fire Code has been sent to every fire chief in New Hampshire. In addition, Don and State Architectural Historian James L. Garvin are members of a national committee which is revising NFPA 914, "Fire Protection in Historic Structures," into a NFPA Standard that can be adopted by communities.
FEMA criteria for floor-prone areas, and the NH model floodplain development ordinance, exempt work on historic properties from floodproofing requirements, so long as the alteration will not preclude the building's continued designation as a "historic structure."
In addition, income-producing historic properties may qualify for federal rehab tax credits; contact Christine Fonda at the NH Division of Historical Resources (telephone 271.6437; FAX 271.3433) for more detandails. Businesses can take IRS tax credits for qualifying ADA-related work (see § 44 and § 190 of the IRS code).

---
Recognition and Resources for Old House Owners
Whether you love or merely tolerate your old house, it is well to approach the building with one truth firmly in mind. Human life is short. The life of a house is potentially limitless.
Recognition
The National Register of Historic Places NH Division of Historical Resources (NHDHR), 603.271.3483, http://www.state.nh.us/nhdhr/ or http://www.cr.nps.gov/nr/
The New Hampshire Register of Historic Places NHDHR, 603.271.3483,
http://www.state.nh.us/nhdhr/
Local Historic Districts contact your town planner or NHDHR, 603.271.3483,
http://www.state.nh.us/nhdhr/
Financial Resources
FHA 203K Rehabilitation Loan Program financing for acquisition, rehabilitation and refinancing, based on the projected value of the home, available through private lenders.
Historic House Insurance full replacement policy for a propertys historic value, more information available from the NH Preservation Alliance, 603.224-2281, http://www.nhpreservation.org.
Land and Community Heritage Investment Program for municipalities and non-profits, matching grants for preserving natural, cultural and historical resources. 603.224-4113, http://www.lchip.org
Conservation License Plate Program for publicly-owned properties, grants for preservation and conservation projects, NHDHR, 603.271.3483, http://www.state.nh.us/nhdhr/
Preservation Tax Incentives 20% tax credit for the rehabilitation of income-producing buildings on the National Register, NHDHR, 603.271.3483, http://www.state.nh.us/nhdhr/. Not for owner-occupied buildings!
Preservation Easements protect your homes history for generations, more information available from the New Hampshire Preservation Alliance, 603.224.2281, http://www.nhpreservation.org
Educational Resources
New Hampshire Preservation Alliance preserving the states historic buildings, landscapes and communities through education and advocacy. 603.224.2281, http://www.nhpreservation.org
The Preservation Institute, Historic Windsor Inc. courses and hands-on workshops for homeowners and contractors, 802.674.6752, http://www.historicwindsor.com
Society for the Protection of New England Antiquities programs and lectures at historic properties throughout New England, 617.227.3956, http://www.spnea.org
National Trust for Historic Preservation national clearinghouse for books, historic real estate, awards and more, 800.944.6847, http://www.nthp.org
National Park Service, Heritage Preservation Services web classes, technical briefs and much more, 202.343.9583, http://www2.cr.nps.gov
Testing the Energy Performance of Wood Windows in Cold Climates: A Report to the State of Vermont Division for Historic Preservation Agency of Commerce and Community Development, click here
Slate Roofs and Slate Roofing, click here


---
The Secretary of the Interior's Standards for Rehabilitation
Rehabilitation may be considered as a treatment when repair and replacement of deteriorated features are necessary; when alterations or additions to the property are planned for a new or continued use; and when its depiction at a particular period of time is not appropriate. Prior to undertaking work, a documentation plan for rehabilitation should be developed.
A property shall be used as it was historically or be given a new use that requires minimal change to its distinctive materials, features, spaces, and spatial relationships.
The historic character of a property shall be retained and preserved. The removal of distinctive materials or alteration of features, spaces, and spatial relationships that characterize a property shall be avoided.
Each property shall be recognized as a physical record of its time, place, and use. Changes that create a false sense of historical development, such as adding conjectural features or elements from other buildings, shall not be undertaken.
Changes to a property that have acquired historic significance in their own right shall be retained and preserved.
Distinctive materials, featuress, finishes and construction techniques or examples of craftsmanship that characterize a property shall be preserved.
Deteriorated historic features shall be repaired rather than replaced. Where the severity of deterioration requires replacement of a distinctive feature, the new feature shall match the old in design, color, texture, and where possible, materials. Replacement of missing features shall be substantiated by documentary and physical evidence.
Chemical or physical treatments, if appropriate, shall be undertaken using the gentlest means possible. Treatments that cause damage to historic materials shall not be used.
Archaeological resources shall be protected and preserved in place. If such resources must be disturbed, mitigation measures shall be undertaken.
New additions, exterior alterations, or related new construction shall not destroy historic materials, features, and spatial relationships that characterize the property. The new work shall be differentiated from the old and shall be compatible with the historic materials, features, size, scale and proportion, and massing, to protect the historic integrity of the property and its environment.
New additions and adjacent or related new construction shall be undertaken in such a manner that, if removed in the future, the essential form and integrity of the historic property and its environment would be unimpaired.and

---
Barn Restoration
Restoration of antique Barns and Homes
J Heaney Construction
PO Box 98
Francestown, NH 03043
603 547-2147
Jeb specializes in the restoration of older barns and homes. Sill replacement specialist. meticulous yet reasonable.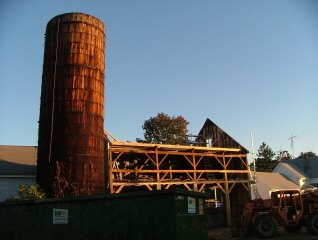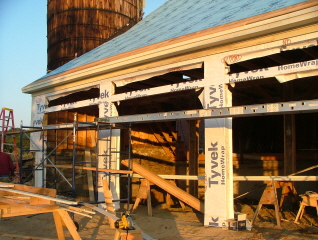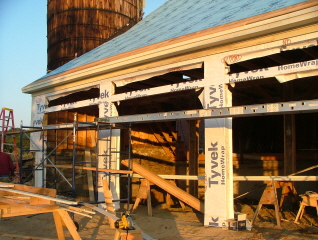 ---
Home Insurance
Boyd & Boufford
Rick Boyd
603 673-7228
www.boydboufford.com
riboydi03@insuremail.net
Full service Insurance agency with policies for antique homeowners.


---
Environmental Mitigation
Lead Paint Abatement, Mold Remediation, and Period Restoration
Alpine has been making homes safe while preserving historic architectural details for over twenty-five years. They offer lead paint abatement and mold remediation services with a focus on historic buildings.
Alpine Environmental, Inc.
Ron Peik, Owner & President
21 Progress Ave., Suite #1
Chelmsford, MA 01824
Office: 978-250-2740 | Fax: 978-250-0565
www.alpine-environmental.com


---
Asbestos Guide
"Our Asbestos Guide offers information about asbestos, its dangers, what to do if yandou suspect it's in your home, the dos and don'ts when handling asbestos and other useful information to keep you, your family and others safe in your home."




---
Asbestos Mitigation
Asbestos Recycling
Mesothelioma Justice Network
Kaila Williams
(855) 722-2974

Asbestos can be recycled, but not in the way you would recycle paper or plastic. This type of recycling uses high temperatures to change asbestos fibers into glass or ceramic fibers that are safe to use for other purposes. If asbestos is in your home, contact professionals that are properly trained to dispose of it. Do not try to remove or recycle asbestos yourself. This can disturb asbestos fibers and put you at risk of mesothelioma and other asbestos-related diseases.
---
Floors
Wide Plank Floors
Carlisle Wide Plank Floors
1676 Route 9
Stoddard, NH 03464
1 800 595-9663
The original source of wide plank wood floors. Custom made from old growth heart pine, premium hardwoods, antique boards.
http://www.wideplankflooring.com
and

---
Custom Decorative Finishing
Donna Revens
Decorative painting, Color consulting, interior design and Home Staging
603 305-8460

---
Building Restoration
Butler Restorations llc
Mike Butler
603 588-2637
www.shorthillstudio.com

Building Restoration, Replication, Preservation
Ironwood Restoration, LLC
PO Box 487
Marlow, NH 03456
603 446-3669and
Dedicated to maintaining the integrity and aesthetics of community architecture. Building preservation and restoration compnay specializing in preparing old buildings for their next century. Consulting, reproduction millwork, general restoration services
Contact: Brian J. Gallien www.ironwd.com

---
Chimney Restoration
Chimney Restoration Group
905 Route 106 North
Loudon, NH 03307
866 798-3676
Full chimney service from cleaning to repairs, lining, rebuilding and new construction. Specializing in restoration and preservation.
www.supaflu.com

---
Window Restoration
Winn Mountain Restorations, LLC
75 Holt Road
Lyndeborough, NH 03082
603.654.2115 office 603.620.0923 cell
www.winnmountainrestorations.com
Andrew Roandeper has been living in and working on old houses most of his life. In 2006 he founded Winn Mountain Restorations to restore old windows (and some doors). Home and shop were based in a 270-year-old connected farmhouse and barn structure which could be a life's work in itself. The shop moved to larger space in Peterborough in the summer of 2015 and continues to grow. Restoration projects have ranged from private homes to meeting houses and libraries. Current notable projects include the Wentworth Coolidge Mansion in Portsmouth NH, the Hancock Meeting House, the Plainfield Town Hall and the Tuttle Library in Antrim. Past projects have included the Wilton Public Library, A shaker house in Sharon, Mass., the Bean Community Center in Portsmouth (a conversion), the Gilmanton Town Hall, The Pembroke Clock Tower, The Gaudette Mill building (a residence in Peterborough), a large Queen Anne residence in Nashua, The Nashua Unitarian Church, the Peterborough Unitarian Church, the Lyndeborough Center Church, the Stoddard Town Hall and Church and other public and private buildings in New Hampshire and Massachusetts. He is a charter member of both the Window Preservation Alliance and the New England Window Restoration Alliance, president emeritus of the Preservation Trades Network, a life member of the Timber Framer's Guild and has taught restoration classes and demonstrated throughout the eastern half of the US.

---
Masonry
Alex and Graham Pendlebury
Pendlebury Masonry
603 487-2636
www.pendleburymasonry.com

---
Post and Beam Construction
Post and Beam Construction
Paul Freeman-owner
Brooks Post and Beam
603 654-3210
www.brookspostandbeam.com

---